Arsenal News
Arsenal's Automation Solutions Platform Rebranded as Invio Automation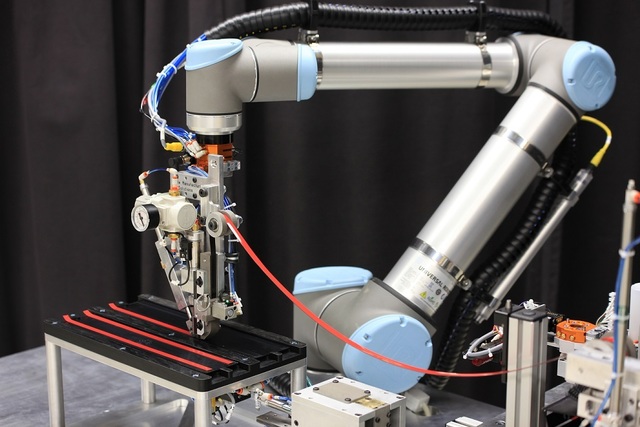 May 2, 2023
New York, NY- Arsenal Capital Partners ("Arsenal"), a leading private equity firm that specializes in investments in industrial growth and healthcare companies, today announced the rebranding of its advanced automation solutions platform to Invio Automation ("Invio").
Formed through a combination of Eckhart, Inc. and Innovative Products & Equipment, Inc., Invio Automation provides high-value solutions to help customers accelerate growth in specialized markets including medical device, life sciences, and advanced manufacturing.
With its scaled engineering resources and end-to-end expertise in complex automation, the company aims to serve a targeted portfolio of growth markets supported by recognized and sustainable macro tailwinds. Invio works closely with innovative companies to design, build, implement, and maintain automation solutions in high-precision applications, leveraging a proven design library and over 500 experienced team members across 9 sites in North America and a global network of collaborative partners.
Invio's full suite of capabilities support initial automation and process development concepts, leveraging Factory of the Future (design and simulation) services, through the implementation of fully automated systems including test, validation, and analytics tools. Invio enhances custom automation solutions with proprietary Autonomous Guided Vehicles ("AGVs"), Autonomous Mobile Robots ("AMRs"), semi-automated tooling, and other advanced automation technologies focused on enabling efficient material flow. Invio's design, execution, maintenance, and support drives ongoing, high ROI customer relationships and creates revenue opportunities for customers through automation in addition to increased operational efficiency and improved safety.
"We see tremendous opportunity in the market to support our customers' growth objectives with our world-class, integrated team and decades of experience delivering proven automation solutions," said Andy Storm, CEO of Invio. "We will continue to invest in our position as a trusted partner to the most innovative global companies, executing at each important stage of the automation journey."
Sal Gagliardo, an Operating Partner of Arsenal, stated, "We are taking a market-first approach to building the Invio platform. Our significant focus and right to win in high-value medical device, life sciences, renewable energy, and other advanced manufacturing applications will result in a more scalable, effective, and forward-thinking solutions provider."
Robert Sorrel, a Principal of Arsenal, added, "Invio Automation's scale, internal processes, unique automation capabilities, and integration expertise represent a high value proposition to both customers and potential M&A partners focused on accelerating organic growth."
For more information about Invio Automation, please visit www.invioautomation.com.
About Invio Automation
Invio Automation is an Industry 4.0 leader that designs, builds, implements, and sustains high-value automation solutions, with a focus on helping customers accelerate growth in specialized markets including medical device, life sciences, and advanced manufacturing. Invio uses deep domain expertise and extensive engineering capabilities to partner with customers globally from product design and R&D pre-validation through full automation in high growth applications. Invio customers value high precision, quality, efficiency, and safety and rely on innovative and scalable solutions and support from Invio to accelerate organic growth opportunities. The expansive design library built over decades, growing North American footprint with global reach, and over 500 experienced team members make Invio Your Partner for What's Possible.
Invio Automation's Solutions division specializes in single station robotic cells, multi-station fabrication & assembly lines, bonding & welding technologies, vision systems, and packaging processes. Solutions capabilities include thermal bonding, web handling, force plotting, heat staking, high viscosity pumps, precision dispensing, impulse bag sealing, and needle bending. Invio Automation's Technologies division includes highly differentiated Autonomous Mobile Robots (AMRs) and Autonomous Guided Vehicles (AGVs) for heavyweight applications, turnkey assembly lines, welding automation, and custom lift-assist & secure tools for safety-critical applications.
To learn more, visit www.invioautomation.com.
About Arsenal Capital Partners
Arsenal Capital Partners is a leading private equity firm that specializes in investments in industrial growth and healthcare companies. The firm differentiates itself with its deep, specialized domain and technical expertise and extensive investing experience, having completed over 250 platform and add-on acquisitions and achieved more than 30 realizations, over the last 23 years. Since inception, Arsenal has raised institutional investment funds totaling over $10 billion. The firm's current Fund VI focuses on investments in businesses with proven technologies and solutions positioned to deliver high performance and value-add to their customers, while its smaller Growth Fund executes a similar strategy in the same markets but pursues investments in next generation, emerging technology businesses poised to apply innovation to generate very high growth. For additional information, please visit www.arsenalcapital.com.
Contact for Arsenal:
Jackie Schofield at Prosek Partners
Pro-Arsenal@prosek.com